Augmented Intelligence = AI + HI
Experfy believes in the power of a strong partnership model between people and artificial intelligence to elevate outcomes and ensure that your business has the right talent to execute your business strategy. Leveraging our AI/ML algorithms in combination with vetting by our world-class Subject Matter Experts (SMEs) will ensure that your organization will win the war on talent.
Artificial Intelligence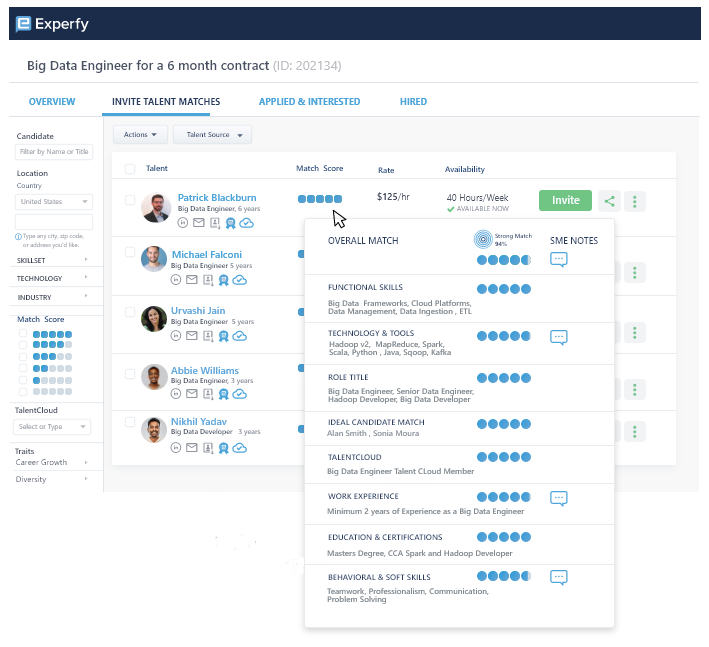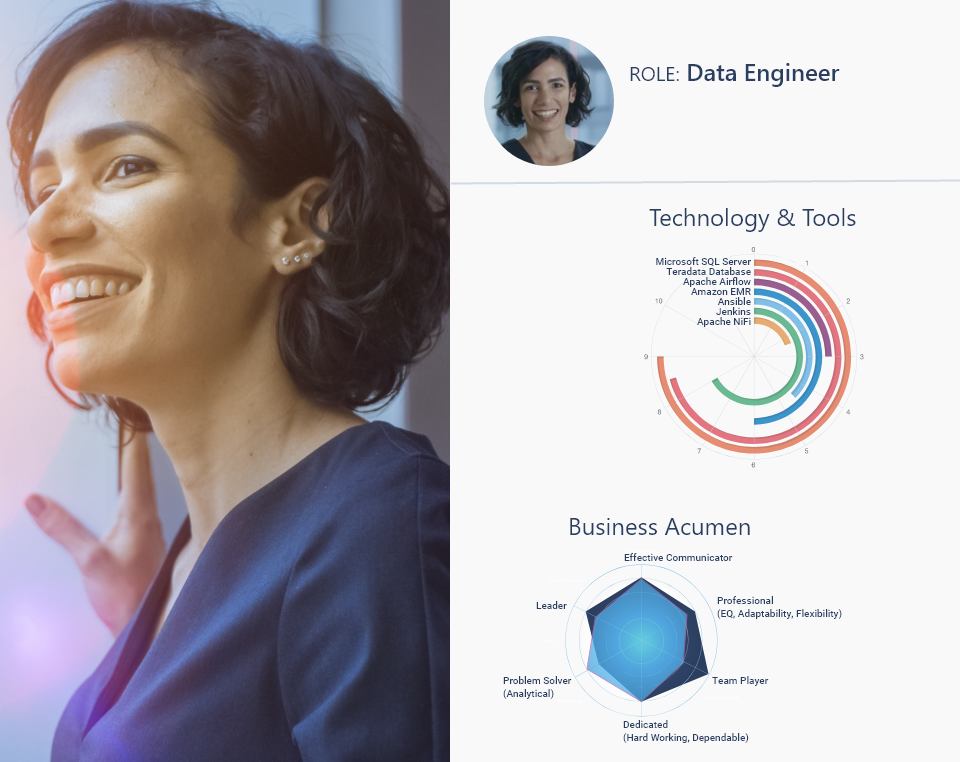 Human Intelligence
Don't settle for talent recommended by generalists. Experfy takes the guesswork out of hiring since our Subject Matter Experts pre-vet and assess each candidate. When we present candidates, you can practically hire them while being blindfolded. We perform background checks, worker classification, and payrolling, enabling you to bring a candidate on board with unmatched speed without sacrificing enterprise-grade compliance.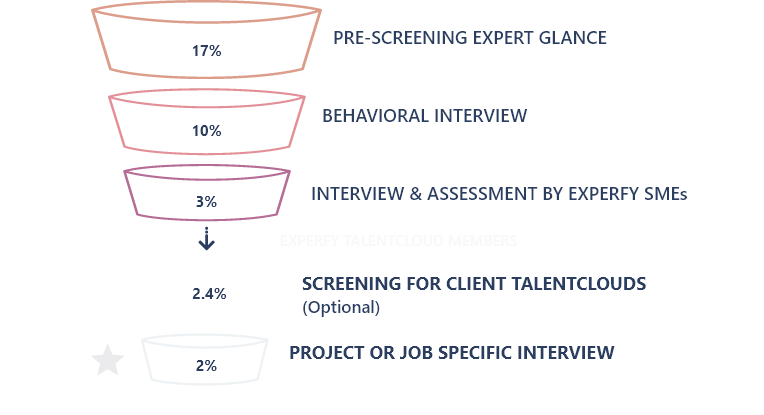 Time to Recommend Candidates

24

Hours

to

3

Days

Time to Hire

7-9

Days

80

%

Candidates we present are hired
Platform Building Blocks:
TalentClouds
What are TalentClouds?
Experfy TalentClouds are virtual pools of pre-vetted talent built for specific skills, roles, and industries. Every candidate who applies to a TalentCloud goes through rigorous vetting which includes a technical assessment by Experfy SME, in addition to behavioral and personality screening. The result? 8 out of 10 consultants recommended by our AI-powered platform are hired by our clients, saving substantial time and enabling projects to be staffed in days, not weeks. Can you say "frictionless"?
Experfy TalentClouds
Experfy has pipelined talent for technology practice areas that are in high demand. We continually replenish our TalentClouds so that there is always a robust pool of consultants to choose from and we are able to recommend quality candidates with unprecedented speed.
Custom TalentClouds
Custom TalentClouds are custom built for companies that identify strong continuous demand for specific skill-sets, roles or industry verticals. We combine your vetting requirements with our AI and HI to ensure the candidates accepted into your clouds are a perfect fit for your company. Custom Clouds, when combined with our enterprise SaaS platform, can be used as a powerful engine for verticalized sourcing.
Let's Talk
Enterprise-ready Center of Excellence for hard-to-find and in-demand skills
Center of Excellence
When your strategic objectives hinge on hiring highly specialized talent in the AI and emerging technology space, we can build a fully-managed Center of Excellence leveraging SMEs, vetted talent in our ecosystem and the Experfy platform.
Reduced Time to Hire
Frictionless access to vetted talent that is a perfect fit for your project in as little as 24-hours and onboarded as quickly as a week. We crush industry averages for time to hire with our use of AI-enabled technology.
Personalized Service
Our domain experts understand your needs and find you the perfect match. From requirements gathering and candidate selection to interviewing and onboarding, you can count on us.
Built for Enterprises
Experfy capabilities include fully compliant hiring with background checks, worker classification and API integration into your VMS system. Inquire about our enterprise-enabled solutions today.
External + Internal Talent
Vet and pipeline external talent, while mapping internal talent against our comprehensive skill taxonomies. Enrich employee experiences with an internal gigs marketplace where they sharpen their skills and break down silos by working across groups. A single platform for direct sourcing, inner-mobility, and upskilling developed to help you win in an AI-powered data-driven world.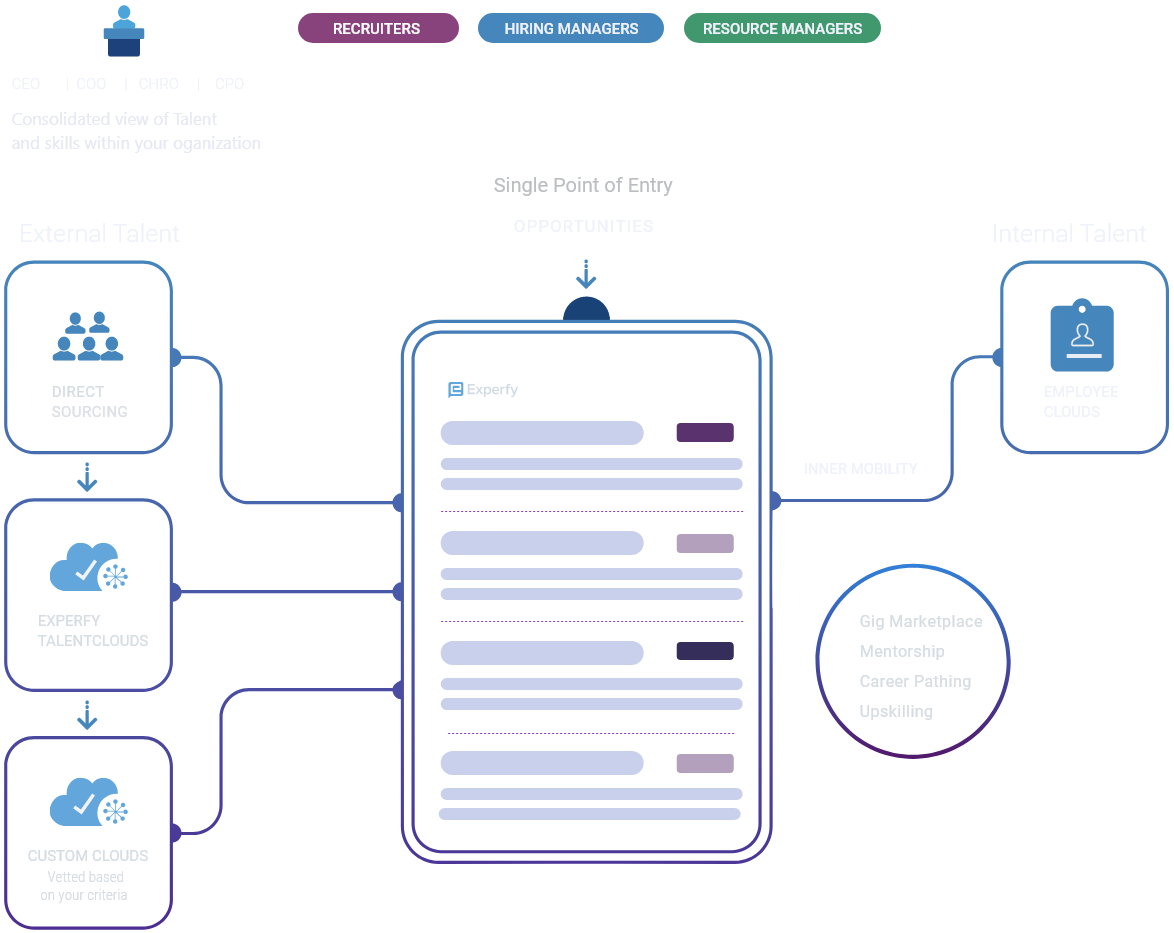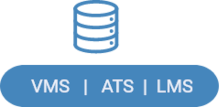 Programs
Three Programs to Get You Started with Our Platform
Experfy

SaaS

Pipeline your own talent using the industry's first Future of Work SaaS platform.
Experfy's SaaS platform is powered by AI and enables you to create custom skills taxonomies to match expert talent to the right opportunities.
A la carte add-ons include sourcing of AI and engineering talent from Experfy's marketplace on-demand, along with vetting services by Experfy SMEs.
You can also add your internal talent to the platform to create a robust inner-mobility solution.
Experfy

TalentClouds

Exceptional AI, engineering, and high-tech talent vetted by SMEs
Access our highly curated TalentClouds for specific high-tech skills for on-demand hiring of talent that is vetted and certified by Experfy SMEs.
Post a job opportunity and receive the profiles of the strongest matched candidates in less that 24 hours on average.
Experfy

CustomClouds

A full-service Center of Excellence for the Future of Work
Serious about winning the war on talent? We begin with workforce consulting and help you identify the skills gap within your firm, while creating a custom skills taxonomy on our award-winning AI-powered platform. We then build a private TalentCloud for each skill, a virtual bench containing pre-vetted experts who are pipelined for immediate deployment. We provide seamless integrations into your VMS, ATS and ERP systems.
Upskilling Platform
Thought Leadership
The latest insight from thought leaders on our Future of Work Pioneers podcast, webinars, and Experfy Insights blog.
From Our Upskilling Platform
Developed by industry thought leaders and Experfy in Harvard Innovation Lab. Sharp focus on domain-specific use cases making you productive as soon as you leave the classroom